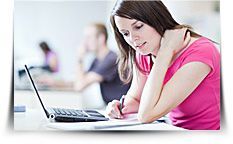 Book Review Essays
A book review essay usually begins with a summary of the topic or book. A person writing an analysis of a book or topic begins with examining his/her feelings toward what they have read. Do they agree with the author? What emotions are engaged in reading the text? Does the reader agree with the author on the topic? Often an analysis will focus on the characters, plots, or themes of the book. The steps of a review begin with the reading, the feelings of the reader, and then give a rational appeal, emotional appeal, or ethical appeal.
Sample Paragraph of an Analysis of Huckleberry Finn
Huckleberry Finn written by Mark Twain is about a small boy whose father stays drunk and a community that does not meet the needs of the child. Huck is often left hungry, dirty, and homeless. The Widow Douglas tries to reform Huck but does not succeed. Huck is a social misfit that has been abused and neglected. No one took the time to change the life of Huckleberry. The community should have taken steps to care for the young boy. Society often fails to meet the needs of children who have behavioral problems. This story is a good example of the needs of many young children.
This is a sample paragraph of an analysis of the main character of Huckleberry Finn. The story's main focus is on Huckleberry Finn, a young boy. The analysis brings out the feelings of the reader toward Huck's problems and how many children are often left hungry or homeless. This short analysis gives information about the main character. The next step is expressing feelings toward the story. The third step is giving a rational appeal, emotional appeal, or ethical appeal. In this short analysis the writer takes an emotional appeal concerning the needs of Huckleberry Finn.
When you're stuck on a tough school assignment, let ThePaperExperts.com deliver a quality term paper or essay with all your requirements for a reasonable fee. We even have live phone support for every one of our clients.
Order Your Custom Term Paper Today!