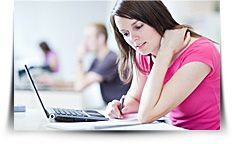 Should You Transfer Schools?
Even the students most in love with their colleges, the kids wearing the school colors and brimming with school pride, have moments of doubt. Everyone wonders once in a while if you are attending the right school or if life would be better off at a different university. But how do you know when those feelings should translate into actually picking up and transferring schools, and what do you do when you make the decision to switch?
There are many reasons students want to change colleges in mid-stream. Many completed a two-year degree at a community college and are looking for a four-year school to finish out a bachelor's degree. Still others, like the woman who asked the CollegeRecruiter.com experts for help, face financial difficulties that make changing schools an attractive option (http://www.collegerecruiter.com/pages/questions/question171.php). In that case, unless money really is an object, the experts say that getting the best education you can at the school best for you is more important than what you pay for it.
However, for many students, it is neither a question of money nor the right degree. It comes down to whether you're happy at your school. This is often hard to assess because of the conflicting emotions many college students face. Some are homesick because their school is too far from home, family, and friends. Others feel they would be better off going to the same school as a girl or boyfriend. Still others face mental or physical health challenges, like depression, that make being in school difficult.
When you consider whether to transfer schools you need to think about why you want to leave and what you think will be better somewhere else. Are you genuinely unhappy at your current school? Has the atmosphere or climate become intolerable? Is there an important opportunity you are missing but could find somewhere else? In some cases, after a year or two at one school you'll discover that you want to switch majors. Transferring to another college becomes an attractive possibility if another school offers a stronger program in your new field, or if your current school does not.
If you decide transferring is right for you, there are several factors you'll need to consider. First, many colleges do not accept transfers after your sophomore year. So, if you want to switch schools, you'll need to do it before your junior year or risk losing standing and credits. Many schools will only accept 60 transfer credits, though some may go as high as 90 or more. You need to check with your prospective school's registrar to see how many credits you can transfer. You'll also need to check with financial aid to see if your financial aid or scholarships will transfer, especially if your new university is in a different state, province, or country. The College Transfer Directory (http://www.collegeprofiles.com/transfer/home.html) is a good place to start.
After you've made the decision, be prepared for the change. Starting over at a new university can be disorienting, and you may end up feeling like a freshman all over again. But if planned carefully, transferring to a new school can give you a fresh start to make the most out of your college experience.