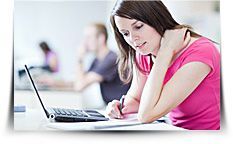 The Paper Experts Tips on What to Do This Summer
Now that school's out and the long, lazy days of summer are here, it's time to think about what you're going to do with all that free time. Sure, sitting on the sofa playing video games is one way to do it, and texting your friends is always fun. But you owe it to yourself to use summer as a time to explore activities that will enrich and reward you. Here are few ideas:
Volunteer!
Volunteering is a great way to give something back to the community and get something to put on that resume you're building. Explore your community and find out what kind of organizations are looking for volunteers in your hometown. Most towns and cities have a local soup kitchen or thrift store looking for hard-working volunteers. Or, if you're more adventurous, you could consider volunteering for a national organization like Habitat for Humanity or an international organization like the Peace Corps. In organizations like these, you can travel around the country or the world to help out those in need. The feeling you'll get seeing the difference you make will be your reward.
Get a Job!
If you're looking to score some extra cash to pick up a new mini-iPod before classes start up again, you're going to need to find work. Many local communities have programs to help teens and young adults find summer jobs as city workers or life guards. Scout out local businesses and see who is hiring. Though it's a tough market for teens and young adults this year, a little elbow grease and a winning attitude can score you some cash to help pay for the books (right…books).
Explore a New Place!
Take a trip somewhere you've never been…whether it's the other side of town, the other end of the state, or around the world. Experiencing new places gives you a new perspective on life and helps you learn about the world outside the path from your bedroom and the refrigerator. Depending on your budget, a getaway to another state or another country can be a great way to spend those summer days. But if you're not ready to trot the globe just yet, pile your friends into the car and take a day trip to a local landmark. You'll be surprised at the number of weird and wonderful things you'll find in your own backyard.
Enjoy Yourself!
Lastly, remember to take some time to enjoy yourself. Summer is a time to relax as well as to learn and grow. Remember to book some time to watch a sunset, hang out with your friends, and just spend a quiet afternoon doing nothing at all. Summers like these won't last forever. Soon enough you'll be back at the grind, so be sure to rest and relax while you can.
Keeping Your Brain Fresh This Summer
We've all been there-the first day of school comes upon us sooner than we think. We're sitting in class and our brains just go blank. "But you learned it last year," the professor says. Last year? Who can remember back that far? After the summer you've had you'd be lucky to remember last week! But it doesn't have to be that way. Putting in a little effort now will ensure your brain stays fresh all summer and ready for fall.
Read a Book!
Yes, you've had your fill of heavy textbook reading during the school year, but now is the time to read something fun. Reading is a great way to keep your brain engaged and keep yourself entertained on those long summer days. It doesn't have to be anything heavy or anything too academic-no one expects you to polish off War and Peace or the complete works of Shakespeare. But try picking up something fun that lets you explore new worlds and new ideas. There are plenty of great choices at your local library or bookstore.
Write Something!
I know it sounds like schoolwork, but writing is something you can do for fun as well as for school. Try keeping a journal and writing about your day. Or maybe you'd prefer sketching out some short stories or a screenplay. Let your imagination run wild. You don't have to stick to strict essay formats when writing for yourself. Anything goes, and the more creativity you put into your writing the more rewarding it will be-and the more exercise your brain will get.
Take a Class!
School doesn't always end in May or June. Many colleges and universities offer summer programs to help you catch up on missing credits, get ahead of the game, or just learn something new. Even if you're at the top of your game, taking a summer class can be a fun way to explore a new field. And it doesn't have to be for credit. Many communities have adult education classes where you can learn about topics not normally covered in college classes-anything from cooking to antique appraisal to home decorating.
Think!
Surely one of today's most underrated skills, thinking is a good way to keep your brain sharp. Take some time on a lazy summer day to ponder a difficult question-Does God exist? What will the future be like?-and try to come up with good arguments for and against the idea. Or you could debate with a friend. Discussing philosophical questions can hone your debating skills and open your mind to new takes on the world's oldest mysteries.
But whatever you do, remember that your brain is a tool. If you don't use it, it will get rusty. Keep your brain active and you'll thank yourself come class time.