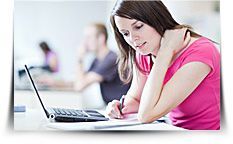 Narrative Essays
Narrative essays are often personal essays written in a story form. Narrative essays can be written in the first or third person depending on the perspective of the story. Narrative essays should have concrete terms. Most narrative essays have a universal meaning or take away nugget. Personal narrative essays are non-fiction stories. Essay writing often helps a person shape the experience until it can be clearly understood by others. Begin by finding a generalization about the story. Remember a narrative essay is more than telling a story. Put into the story only details that illuminate the thesis. Narrative essays if told as a story should have a plot, setting, characters, a climax leading to the thesis, and conclusion. Most narrative essays should have a time line where it begins and where it ends.
Sample of a Narrative Essay:
My daughter and I were in the Wal-Mart parking lot when she saw some people giving away puppies. My first reply was we did not need a puppy that would become a huge dog. Little did we know that this incident would change our lives because it would led us to get a small dog, which would help us in the recovery of a painful divorce.
A man walked up to us and said, "My mother has several small dogs that she needs to give away. Why not take your daughter to see her?" He gave us her address and we decided on taking a small Maltese puppy from her. At that time I did not want a dog of any kind. I believed it would be a lot of work.
Tramp, our Maltese, changed our lives as we learned to love and forgive. Our lives were changed to realize a small package of a dog could actually bring love into our battered hearts. Tramp led us to adopting other retired Maltese that brings joy to our lives everyday.
This is a sample of a narrative essay that tells a story in the first person. It lists concrete terms leading from one event to another. The take away nugget of this story is the fact that a dog can help a person in recovering after a divorce. The essay began by telling a generalization about seeing some people with large puppies and an innocent comment led to other steps in the story. The characters of the narrative are the writer and her daughter. The details in the story are pointed toward the thesis sentence. The plot of the story is getting an unwanted dog that leads to love and joy in the writer's family.
When you're stuck on a tough school assignment, let ThePaperExperts.com deliver a quality term paper or essay with all your requirements for a reasonable fee. We even have live phone support for every one of our clients.
Order Your Custom Term Paper Today!

Attention Webmasters: Add Free Content To Your Site... click here!!!