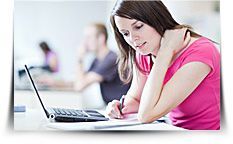 Our Service
If you want to learn how our service works and how to use it… read on!
Our service is meant to benefit college students of all ages. Many of our clients are first year students who find it difficult adjusting to the curriculum and completing the necessary term paper assignments. Others are returning students pursuing a Master's degree while having a full-time job/children at home. Whatever your situation we can help.
How does our service work?
It's pretty simple. If you are having trouble writing a term paper then give us the topic and we'll write this term paper and include all the requirements you give us
How are you supposed to use this paper?
First, you can't submit this paper as your own. But what you can do is use the paper we write as a guide or model to write your own. The term paper we write will contain research and a bibliography. It's just like looking up a book in a library that deals with your exact topic. Look up the sources for yourself or have us provide copies of the article sources we use so you can make good use of each source. Reading our paper will give you insight on what your professor expects from you and our paper will also be a good guide to write your own.
What if you have a specific book you want included in your paper?
Remember, we will include all of your requirements including any books you specifically require. Our writers have access to the major university libraries at large universities like Columbia, UCLA, Boston College, University of Michigan, University of Toronto, SUNY, NYU and Rutgers just to name a few. We also have access to the major libraries online with millions of sources with books on text and journal articles. When you purchase a term paper from our service you are purchasing from a professional service with exceptional writers and researchers who are all working for you to give you the best product possible.
Why do other services charge so little for their services?
Services that offer rates of $10 a page or similar prices are based out of Pakistan and provide substandard papers. Remember, people can earn a PhD in a developing country but that doesn't mean that they can write in English properly like Native English speaking writers. People write the way they speak. We have nothing against them personally;we just feel that it would be absurd to give your paper to someone who writes at a lower level than most college students. You can read their sites and see this or ask them a detailed question by e-mail and read their responses… you will be surprised. If these services ran their service in a regular brick and mortar office there is no way you would trust them with your paper, especially after talking to them. They seem to think that because they have a PhD they can actually write well. They don't know the standards of American schools and if they did earn their degree in an American school the probability is that they didn't earn great marks in English composition. Think of it this way… if you were an American PhD writer would you work for $2 an hour? In Pakistan you can make this and live like a king. These services have nothing to lose if you are upset with them because you can't contact them like you can with us. Want to visit their office? Start looking for flights to Pakistan. They know you can't do anything to them even if you are upset with them. Remember this when you want to choose a company to write a model term paper for you.
Want to know what services we offer?
Our services are varied and very simple to use. The following delineates the services we have to offer our visitors:
Customized Writing Services
This service provides students with a complete sample of the term paper they have been assigned. We will follow all of your requirements; provide you with great research and an excellent model to make it easy for you to write your own. This service is great for book reports, essay questions, term paper assignments and research papers.
Order Our Customized Term Paper Service Right Here!!!
Full-Service Comprehensive Editing Service
This service allows students to submit a document and have one of our expert editors fully edit your document. We will correct grammar and punctuation errors, examine word choice and make changes where we see fit. We will properly format your document into whatever writing style you choose. As well, you receive a description of the changes we made and why we made these changes.
Order Our Full-Service Editing Service Right Here!!!
Premium Customized Writing Services
This service gives students more control over our customized writing service. Some of the features of this service are: A detailed conversation with the writer before and after we write your term paper, increase the revision period to 7-days so you have more time to request a revision. You get to choose the writer of your term paper and you also receive a $5 coupon for any future purchase. The extra service you get with this paper makes the increased price well worth it.
Order Our Premium Customized Writing Service Right Here!!!