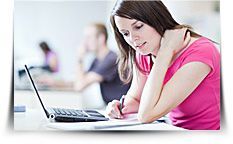 Response or Reaction Essays
A response or reaction paper is usually assigned as a method for the teacher to get to know the thoughts and feelings about a subject that has been discussed in class, an event, video, a visit to a museum, reading assignment, or etc. Writing a reaction essay should answer questions such as:
What do you (personally) think about what you have heard in class?
What did you think about the video?
Do you agree or disagree with what you have read?
If the class visits a museum the response should be written taking in the information learned in class as well as the student's personal feelings about the topic. Usually the teacher is looking for a quality analysis of how well they have grasped the topic as well as his/her viewpoint of the museum.
Sample Paragraph of a Response Essay:
The museum has several beautiful pieces of Native American artifacts. Many of the artifacts are similar to the designs learned in our art class. The beauty of color shows how the Native Americans appreciated colors in their design. One of the necklaces had almost every color of the rainbow in it. The visit to the museum made the lectures we heard in our art class come alive.
This is a sample paragraph of a response or reaction paper to a museum the art class visited. The student connects the lectures of the class to what she sees at the museum. She gives the example of a necklace at the museum having colors like the rainbow and how Native Americans appreciate beauty in their artwork.
When you're stuck on a tough school assignment, let ThePaperExperts.com deliver a quality term paper or essay with all your requirements for a reasonable fee. We even have live phone support for every one of our clients.
Order Your Custom Term Paper Today!