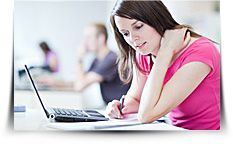 What to Look for When Editing Your Thesis/Dissertation
After completing the first draft of your thesis or dissertation you may be tempted to breathe a sigh of relief, declare the project done, and book yourself a long vacation from academic work. However, the process of editing your work is every bit as important as the actual writing process, and good editing can save you from difficulties and academic headaches when it comes time to defend your work in front of the examination committee.
Obviously, editing will help you to identify problems with grammar, spelling, punctuation, organization, style, clarity, and flow—the types of mechanical issues that are embarrassing to a soon-to-be professional scholar. However, editing can do more than just produce clean copy and sparkling prose.
Careful editing can catch factual inaccuracies before your examination committee points them out for you. Identifying errors of fact in the editing stage allows you to correct them before your committee concludes that you are a careless or unknowledgeable scholar. Careful editing can save you from fatal mistakes of logic or reasoning. Reading your dissertation through can help you to see contradictions, non sequiturs, fallacies, and other flaws in logic and reasoning that can undercut your argument or damage your case. Careful editing can help you to ensure that you have used sources correctly to avoid even the hint of plagiarism or other forms of academic dishonesty.
So, when editing your thesis or dissertation, look for any place where you encounter mechanical errors, questionable statements, or material that doesn't sound like your own original writing. Check each of these areas for mechanics, factual accuracy, and originality. When necessary, look things up in grammar books, reference books, or original sources to ensure that your work is clean, correct, and unique.
In order to do this, it's important to print out a copy of your working draft so you can work with a paper version. We tend to read things on a screen differently from what's printed on paper, so you are less likely to find errors on a monitor than you are on paper. Using a printed manuscript and a highlighter or red pen, mark everything that could be even remotely questionable in your paper—grammar, facts, quotations, etc. Imagine you are a member of the examination committee picking apart your work. Be ruthless. Then, check everything. When you have done so, you'll have taken away half the ammunition the committee could use against you.
The Paper Experts has a separate division that specifically caters to thesis and dissertation writing. Our expertise in this area allows us to write in absolutely any area at the graduate and post graduate area. Talk to one of our Thesis & Dissertation Advisors and ask them about our thesis and dissertation writing services. No matter what stage of the process you're in we can help. We've helped thousands of graduate and post graduate students with their KAMS, proposals, individual chapters, full document, editing or even translating your document into other languages. At The Paper Experts you have a one stop shop for all your thesis or dissertation needs.
Call 1-877-974-8333 and Speak To A Thesis & Dissertation Advisor!