Meet the TPE Team!
Our team of Academic Advisors and office staff come together every day to make sure you, our clients, are getting the services and help you need – hassle free.
We asked our office staff a few questions about the work they do – here's what they said: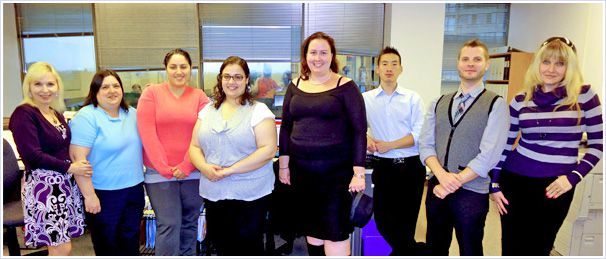 Describe what you do at The Paper Experts:
I am an Academic Advisor and I work with both Undergraduate clients and the Graduate and Post-Graduate Students. More recently, I have been working with Thesis and Dissertation clients, I organize their projects and liaise with the writers, and I work with both to ensure the work is done on time!
I tabulate sales, and help answer the phones when there's an overflow. I keep us organized so we can keep offering excellent service to every client.
What is the single most important thing you do for clients?
I would have to say that the most important thing I do for our clients is listen. I listen when they call and what they have to say, I hear their concerns and I hear their requests. We understand the importance of our client's academic goals and the work that is required to get there. Our involvement does not end until the assignment has been completed and our clients are satisfied. We understand that life happens and when our clients come to us for help, WE LISTEN!
I solve problems for clients when they come up. When there's a problem, I'll often spot it before my client does, and that let's me fix it before they even notice. I help keep everything smooth and easy for my clients.
Tell us about an experience with a client that made your day:
I have one client who came to me after trying so many different companies and at first she was quite hesitant with placing her trust into ours. In order to show her that we were different from any other company out there, I allowed her to have a conference call with her writer. She came away from the experience with such confidence in our company and our writers that she placed the order for her whole thesis that very day. She recently called in and told me that she is going to be graduating this winter and has already been offered a job in her field.
I had a client who was trying time after time to submit her dissertation – but it kept getting rejected for publication. Finally, she called me and we were able to make the necessary changes for her professionally. A week later we learned her dissertation was accepted!
What is your favourite part of working for The Paper Experts?
My favourite part of working for The Paper Experts is the interaction with new clients and my regular clients. Many of my clients have told me that based on their experience with other companies, they were unable to speak with a live representative and expressed how inaccessible companies can be. I could not work for a company that would not allow me to speak with my clients over the phone, because communication ultimately helps build strong client relationships.
We have a great, cheerful atmosphere here. I think knowing that we are helping so many people achieve their goals every day puts a smile on our faces.
How many orders come in on a typical day?
No day is typical, but I would say the more orders, the better! (Keep them coming!)
We're kept fairly busy by orders coming in – but we don't mind being busy at all!
Tell us about the most unusual call you've ever answered?
I do not think I consider any call I have received "unusual". I would say each client and the experience they provide is unique. We have INTERESTING clients, I speak with clients from all over the world every single day and no call is ever like the last!
We've had a few calls from people who thought we were a bulk paper provider – we get asked if we have a particular brand of paper or a particular color!
What is the best time for people to call in?
When I am here! No, just kidding! I would say that we have a strong team of excellent representatives and because we operate on a 24 hour basis, 7 days a week you will be speaking to a competent and friendly advisor at whatever time is convenient for you. We understand that our students come from all different walks of life, from full-time students to part-time students with full-time jobs. This is why we are available whenever you are!
Anytime at all! There's always someone here to take your call. If you've been dealing with one of us in particular, it's usually best to call when you know that person is in – but it's not necessary to wait, especially if you have something urgent to discuss.