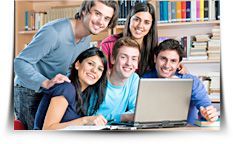 What customers say about our term papers and our service:
Read why students are raving about us all around the world. Below are just some of the statements that students have sent us after they have received their paper. Students are realizing that ThePaperExperts.com is the service to purchase their term papers from. We simplify the process by having qualified customer service reps. take care of your every need and a writing process that makes sure your paper is written with the highest of standards. Our after sale service is what distinguishes us from the pack. Our business depends on word of mouth and repeat business which is why we have grown to the level we are at. At ThePaperExperts.com quality comes first.
S.T. writes:
The Paper Experts have been dynamic, professional, and timely in producing quality assistance and work throughout my doctoral journey. There service provides outstanding knowledge and quality writing about subject matter. Her response to any concerns and correspondence has been extremely timely. Communication is organized and clear. I always can contact them with any concerns or questions and in return I receive answers that are satisfactory and direct. I would recommend working with The Paper Experts if you are looking for quality and professionalism.
---
K.E. writes:
The Paper Experts applies their skills and passion with concern to satisfy people like myself seeking to earn their education.
---
Y.N. writes:
With out The Paper Experts I would have given up. I have 2 additional writing request all due to the confidence I receive from them.
---
K.M. writes:
I just want to thank The Paper Experts for helping me in my time of need. When I needed someone to review my work and help me with ideas that could make it better The Paper Experts was there for me. I thank you so much for all the help.
Thanks again.
---
M.L.L. writes:
I just wanted to let you know how pleased I am with the paper that was delivered to me for my assignment. I read it prior to submitting it and found it to be a well written and informative paper. It met all of the guidelines that I requested. After it was submitted, my instructor told me that it was a suburb paper. I will continue to avail myself of your services,
Thank you
---
Darlene writes:
I just wanted to say that I have used other companies before and was not satisfied with the results. The Paper Experts have far exceeded my expectations! The prices are well worth it! The customer service is great and the writers are the best! My grades have improved and I owe it all to the Paper Experts!
---
Thomas writes:
Working for TPE is enjoyable and rewarding. I learn new things everyday in a wide variety of interesting subjects. And the company is managed with great expertise and care. I can always count on having a challenging workload and great compensation.
---
Linda writes:
I just want to thank Paper Experts, with your help I passed Comp II. I recieved an A on my paper. I can't thank you enough for your help, I would truley use The Paper Experts again.
---
Judy from Florida writes:
I am very pleased with the results of your service. I have read the paper and am very pleased with the context of the whole paper. It was well written. I am also very pleased with the speed that the paper was delivered. Before contacting your company, I was having a lot of trouble finding information on the topic. You saved me a very big headache in researching and writing my term paper. You are the most reasonable company as far as the prices of the paper. Thank you very much for your help. I will definitely utilize your company's service in the future when I have to do other term papers.
---
Olab from New York writes:
Good job, I really enjoyed all your service.
---
Alice in Kansas writes:
Overall I have had a good experience. The service has been quick and satisfactory. I would indeed be interested in using this service again.
---
Mike in Pennsylvania writes:
Aline is a great customer service representative, she is always friendly and helpful.
---
Kai in Georgia writes:
My overall experience with the service of the Paper Experts has been excellent! So far I've had to deal with customer service representatives Aline and Christina who have been excellent in communicating my issues and concerns.
---
Syed in Massachusetts writes:
Awesome.
---
Calvin in Washington writes:
Good quality, efficient, friendly staff, so good!
---
Violet in Texas writes:
I had a good experience. I will use you again.
---
Elizabeth in Minnesota writes:
My experience was positive although I had some difficulty locating what I was looking for. It turned out that I needed to use more specifics when searching and then I soon found what I was looking for. I received a newsletter recently and found it interesting.
---
Judy in Massachusetts writes:
My experience with The Paper Experts Inc. has been rewarding. You have met my expectations and the customer service you provide is extremely accommodating to my needs. Thank You.
---
Joe in Tennessee writes:
The experience I had was great.
---
Winnie in Alberta writes:
Your website was easy to follow when I was ordering a custom paper. I received what I was expecting and the service is good.
---
Silvia in New Zealand writes:
Overall your service was good and efficient.
---
Samuel in California writes:
I have tried many different companies to help me through my academic career. Your service simplifies my life beyond words. I just send in the request and know without a doubt that I will receive an excellent paper on the due date; sharp. In using your service my writing abilities have excelled, as well as my confidence. I also love the fact that I know everyone there, and they know me. Thank you very much for all that you have done.
---
Jose writes:
Thanks so much…you are great!!!!
---
Kerry writes:
Thank you. Your customer service is excellent.
---
Tricia writes:
What did you like best about the service? The immediate respose, and short time it took to return the order....actually the whole process was incredible!
Was your product well researched and written? ABSOLUTELY!!!
Would you recommend our service to a friend who needs help? I already have, and I will definitely use the service again myself.
State: MI
Country: USA
---
Patti writes:
Sorry I haven't gotten back to you. I've been taking a zillion finals. I just wanted to make sure you knew what a HUGE weight you lifted off of my shoulders, I could NOT have done it without you. Thank you so much for all of your help. You were all ABSOLUTELY awesome! I will definitely recommend your services to others and I will be using you again myself.
---
After reading what people are saying... what are you waiting for?