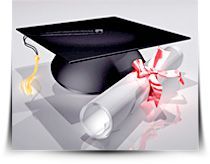 Custom Dissertation and Thesis Writing Services
At The Paper Experts, we recognize that graduate and postgraduate studies are very different from undergraduate work. That's why we have developed a special division dedicated to these complex and challenging long-form documents. Since we started offering dissertation and thesis writing services, we have helped more than 10,000 students complete their theses and dissertations to earn the advanced degrees they deserved.
We've received so much positive feedback for helping our clients reach this pinnacle in life!
Because we have a special division dedicated to only these documents, we can focus intently on producing exactly what you need. We have specialized writers whose only job is to create the high quality dissertation and thesis documents you need. These writers have passed a rigorous qualification process. Most importantly, these writers already hold the same advanced degrees you are working toward, meaning that they have experience writing successful theses and dissertations for their own degrees and can apply that experience to your order.
We know that your thesis or dissertation is the most important document you will likely ever write, and we know that trusting a company to create a model thesis or dissertation is a major commitment. That's why we have developed options to help you evaluate our company and see our quality without having to commit to a full dissertation or thesis order.
Call us and find out why we're the best dissertation writing service now!
If you're not sure about us or want a sample of what we can do for you, have us write a model proposal or the first chapter of your thesis or dissertation. We are happy to work with you on a chapter-by-chapter basis with no commitment to purchase any additional chapters. We will never pressure you to order more services than you want or need. If you only need Chapter Three, we will write only Chapter Three. If you need an entire thesis or dissertation, then that is what you'll receive. You're in charge, and you make the call.
The best way to see what we can do is to test us on something small — you'll be glad you did!
When you work with The Paper Experts, you can talk with the writer who will work on your model thesis or dissertation by phone to make sure you are good match and to help your writer understand your individual interests and goals. We also encourage you to review our work after each stage before you commit to any additional orders. That way, you remain in charge of the process from start to finish and can stop whenever you choose.