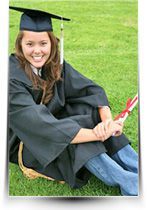 College & Graduate School Application Essay Writing
A college application is one of the most important aspects of your academic career. You can't get into any college without applying. Along with your application, colleges and universities require you to answer specific questions in the form of an essay. The application process is so cut and dry that there is no middle ground, you either make it or you don't. That is why the essay is so important. You want to make sure your application is detailed, truthful and creative to show your school of choice that you deserve to be granted acceptance.
So many students apply to every university that only the best are accepted! Take your competition into consideration and fight for your spot!
Be the best you can be and sell your best qualities to your school of choice. At The Paper Experts we understand the impact being accepted into your first school of choice will have on your life. Why settle for second best? Go for it all!
The Paper Experts will help you one-on-one to create an application essay masterpiece!
Don't send in your application without getting a second opinion!
Welcome to our College and Graduate School Application Center – Your one-stop shop for all your college application essay needs.
We've helped hundreds of students get accepted into their colleges and programs of choice over the past 7 years. Our essay application writers/editors understand through experience what will sell best to the admission officials. Being creative, selective word choice, and selling your best qualities will do more for your chance of acceptance than simply listing your experience. Careful consideration of the details will improve your chances of acceptance.
Placement spots always go to those who show that they really want it!
Applying to college or university is a daunting process that every student at one time or another has had to experience. Let's face it together! We'll guide you through the process and take the burden off your shoulders. We'll work with you no matter what your deadline – call us or order online today.
We flourish under tight deadlines!
our writers are dependable and always on-time!
You may be asking yourself:
What do admission officials look for in an application?
How should you go about answering specific questions?
How aggressive should you be in your application?
How early should you send in your application?
Let us answer all of your questions! Our experts are always here to help!
Custom Application Essays - The Process:
At The Paper Experts, we gather your personal information and go over the details with you over the phone. Having an actual discussion helps us understand you better and enables us to sell your best features to your school of choice. Once you receive your application you can discuss it further with your writer to make sure that any other questions are answered and completely clear. You should address this process with confidence, as it will show in your application every time. There is a balance we strive to achieve while deciding on what to include and, most importantly, exclude from your essay answers. Striking this balance can mean the difference between being accepted to your first school of choice and being forced to look at alternatives.
We make the college application process easier to bear!
Applying to graduate school anytime soon? Get started early. Our writers will address your concerns and work with you to bring out the best qualities.
Can't find the right words? It's not an easy process… let us help!
When your future is at stake it can get pretty nerve racking. We provide you with a different perspective, a perspective of experience and quality that is only available from a few services on the Internet. The dedication we provide to our clients is visible in every aspect of our business, including how accessible we are! We're available to you 24 hours a day by phone so you can be assured of the highest quality of service. Start your application process today by choosing one of our admission services:
Select from the two Application Essay Services we have:
Essay Application Editing – read more about this service here
Essay Application Writing – read more about this service here