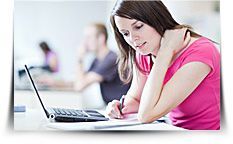 Custom Written Resumes Only $99.95… Save $20
Certified and Professional
The Paper Experts Inc. has partnered up with SharpResumes.com to bring you a top quality resume writing service that everyone can benefit from. Everyone ordering from ThePaperExperts.com will get a special price of $99.95 to give every student, professional and executive an opportunity to benefit from a professionally written resume.
Others charge you $120 or more… you save at least $20 with us!
SharpResumes.com is a professional resume writing service that provides exceptional quality at an affordable price. We have a 24-hour customer care center that is here to answer any question you may have. Our service is simple, we'll write a resume that will get you more interviews than your present resume. We will also ask to see your present resume in file form if you have one but it isn't necessary. You can't go wrong with a service that guarantees your complete satisfaction and charges you only $99.95.
Here is what you get with a custom written resume:
Competent staff of professionals reviewing your information and assigning it to a specialized resume writer in your area of employment
A thorough review of your present resume along with what you include in your order form
An action plan to determine the best course of action for your resume
A professionally written custom resume that you are happy with
We will continue to revise it until you are completely satisfied
We guarantee your resume for 30 days - you get an interview or we'll rewrite it for you
24-hour customer support at 1-866-JOB-U-WANT
Order Your Custom Resume Here
Call our 24 Hours a day at 1-866-JOB-U-WANT!
Need a document edited? Check out our trusted editing service.