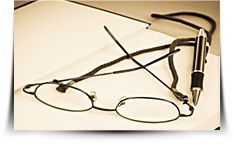 Our Writers
Since we started in 1996, we've prided ourselves on providing high quality model academic writing and editing services at prices that every student can afford. We believe that exceptional quality should be the foundation for every service we provide. We work with the world's most experienced and talented academic writers to provide you with the highest quality model term papers, essays, theses, and dissertations whether your deadline is tomorrow or a week from tomorrow.
To be a writer for The Paper Experts is to be one of the elite. Many will apply, but few will make it through our rigorous application process, less than one in 300 applicants. We purposely make it difficult to become one of our academic writing champions because we want to make sure that only the best writers make it onto the roster of talented academic professionals who will be writing your next model term paper, essay, thesis, or dissertation. This means that every writer we work with is a subject matter expert in his or her field, a top-flight communicator who can turn out high quality academic prose on tight deadlines, and a dedicated professional with the research skills and work habits to meet any requirement on any deadline.
While others may hire amateur writers or bloggers we only hire the best!
We require all of our writers to hold an advanced degree in the field they write about, and every writer must be a native speaker of the English language. This means that your paper will always sound fluid and natural: It will never be full of strange phrases and nonstandard grammar second language speakers of English often employ. We never cut corners with our writers or our papers, and you can see the pride we take in our work with every paper you order.
To help our clients feel even more comfortable with the writer working on their papers, we offer a Premium Level of service which allows you to have a telephone conference with your writer to discuss your paper, your requirements, and what you want the writer to do to make your essay truly shine. You can also conference with your writer after your paper is complete to discuss the paper, the research, and what the writer (and you!) learned from the writing process.
Our writers prove their worth with every essay they write for you!
While we work to ensure the highest quality in every paper we write, we recognize that sometimes mistakes happen. If a mistake ever happens, we will make every effort to make it right, including a free revision of your paper to correct any and all mistakes.
Less than 5% of all the custom essays we write come back for revision — unheard of in the industry!
Our writers are standing by 24 hours a day, seven days a week to write any and every paper you request. Call or email us today to find out what the world's greatest collection of talented academic writers and editors can do for you!