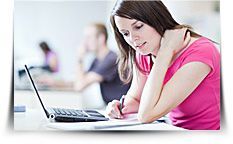 Annotated Bibliography
An annotated bibliography is a collection of research articles or journals to be used in a literature review. Each of the listing of the journals adds to the thesis of the literature review. The resources are written about a specific topic. The journal review should be written with a concise summary of each source and some assessment of its value to relevance.
A Brief Sample of an Annotated Bibliography about Bipolar Disorder in Children
Bender, Kenneth J. "FDA Deliberates Suicidality in Children on Antidepressants." Psychiatric Times. 21 (6): 1
This journal article reports on the deliberation by two U.S. Food and Drug Administration advisory committees on the possibility of teenagers or children committing suicide while they are on different antidepressants.
Cicero, David; El-Mallakh, Rif; Holman, Julie; and Robertson, Jill. "Antidepressant Exposure in Bipolar Children." Psychiatry: Interpersonal & Biological Processes. Win 2003. 66 (4): 317.
This journal article discusses the role of antidepressant administration in manic episodes of children with the bipolar disorder. The mean age of diagnosis of bipolar order and the availability of antidepressants and stabilizers with an analysis of how well these work for children with the disorder is described in the article.
This brief summary of an annotated bibliography is written about children and the bipolar disorder. The journal articles discuss how antidepressants may help or hurt the child taking the medication.
When you're stuck on a tough school assignment, let ThePaperExperts.com deliver a quality term paper or essay with all your requirements for a reasonable fee. We even have live phone support for every one of our clients.
Order Your Custom Term Paper Today!