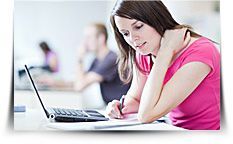 Evaluation Essays
The evaluation essay does what the name implies of evaluating a topic, book, or journal article. The evaluation essay usually uses the five-paragraph essay form. An evaluation essay often uses a rating system to help evaluate a topic or book. The person must then have arguments about why the person would rate the topic in such a way such as does the topic meet the criteria. The writer should have a thesis with main points telling why the person would evaluate the topic in such a way. The purpose of the evaluation essay is to allow the student to show his/her comprehension of the topic as the student compares it in a rating system.
Sample Paragraph of an Evaluation Essay:
Looking at the criteria the teacher has provided a book to evaluate. The book is Henriette Klauser's called, Write It Down and Make It Happen. The criteria of the teacher's shows the topic must be believable and I find this book difficult to believe. The reason I argue that book as believable is many people dream but they do not always get their wishes. A person could write down they want five million dollars but they probably will never get it. An abused mother might write down that she wants her husband to stop being abusive but this probably will not happen without psychiatric help.
This sample paragraph of an evaluation essay states the evaluation of the book should be whether the individual believes it is true. The student then lists reasons why she does not believe it is true. She argues that writing down things will not make them happen.
When you're stuck on a tough school assignment, let ThePaperExperts.com deliver a quality term paper or essay with all your requirements for a reasonable fee. We even have live phone support for every one of our clients.
Order Your Custom Term Paper Today!