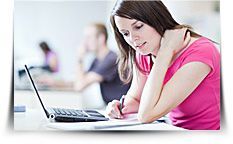 Observation Essays
The observation essay is written after an observation of some kind. Often teachers assign an observation essay when the assignment is to go watch a concert or to watch a group of people at a park, library, or etc. Many psychology students are assigned observation essays after they watch a group of people in their process of doing research.
A Sample Paragraph of an Observation Essay after Observing People at a Mall:
A family of three little girls with their father and mother seemed to hurry from store to store. The mother was always trying to hold hands with the girls so they could not get away. A couple of senior citizens walked closely as they glanced at the different stores. Another couple who seemed in love walked through the mall holding hands and every once in a while they stopped to kiss but always watching to see if anyone was looking. The mall was full of people and it was crowded at times.
This is a sample paragraph of an observation of the people at a mall. The writer describes some of the people she sees. She gives precise detail to some of the people.
When you're stuck on a tough school assignment, let ThePaperExperts.com deliver a quality term paper or essay with all your requirements for a reasonable fee. We even have live phone support for every one of our clients.
Order Your Custom Term Paper Today!