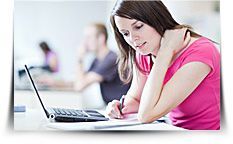 Process Essays
A Process essay tells the reader how to do something. Each step should be explained in detail enough for the reader to understand. It should explain the equipment needed, the materials and all the steps involved in doing the process. Transitions is important to make the paper flow smoothly. The process essay begins with the first step in a process and proceeds in time until the last step in process.
Process Essay Sample Paragraph: Making a Cake.
This process will tell the reader how to make a cake after the purchase of a cake mix. The ingredients needed for this process are the cake mix, a stick of butter, three eggs, and one and a third cup of water. The equipment needed includes an oven, a mixer, a large bowl, and a 13" X 9" cake pan. The first step is heating the oven at 350 degrees. Grease the bottom of the cake pan.
Pour the cake mix into the large bowl. Break three eggs into the cake pan tossing into the trash the eggshells. Add the water and butter to the mix. Beat the cake mix, water, butter, and eggs together for one minute. Pour mixture into the greased pan. Bake for 33 minutes.
This briefly describes the process of baking a cake. It begins with the equipment that is needed. It lists the ingredients that will be needed. It tells each step needed to make a cake.
When you're stuck on a tough school assignment, let ThePaperExperts.com deliver a quality term paper or essay with all your requirements for a reasonable fee. We even have live phone support for every one of our clients.
Order Your Custom Term Paper Today!

Attention Webmasters: Add Free Content To Your Site... click here!!!