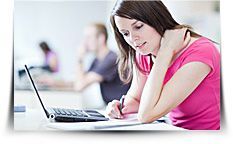 Why Choose Our Thesis/Dissertation Service?
In the life of a graduate or postgraduate student, the thesis or dissertation stands as the single largest obstacle between a student and her or his degree. This document is likely the longest thing the student will have ever written, and the amount of research, reasoning, and analysis needed to pull off a paper of this length can be daunting. Especially for students whose primary research areas fall outside of writing, producing a coherent, integrated, and original thesis or dissertation can be more challenging than all the schooling that led up to it.
That's why The Paper Experts model thesis and dissertation service is so valuable.
At The Paper Experts, we have more than a decade of expertise producing some of the most enlightening, informative, and educational model theses and dissertations available in today's marketplace. Our model papers can show you exactly how to approach your own essay and the best way to write about your topic. We can provide models for each section of your dissertation or thesis, or for the entire thesis or dissertation.
There are compelling reasons for using our service:
Our writers are the best in the business. Unlike many of our competitors, we employ only writers who are native speakers of the English language. Our writers have experience with theses and dissertations because all of our writers have already been through the process themselves—they all have advanced degrees just like the one you're trying for.
We allow you to order only the parts of the dissertation or thesis that you need. Whether it's an introduction, literature review, methodology, conclusion, or an entire thesis or dissertation, you can order only as much as you want. Order chapter-by-chapter so you can evaluate and judge our work for yourself before continuing on to the next section.
Our customer service is the best in the industry. We're always standing by to take your order, answer your questions, and help you in any way we can. We'll work closely with you throughout the process to ensure that the model thesis or dissertation you receive will address all of your requirements.
We also do editing of original theses and dissertations you write yourself. Let our professionals review your work and help improve its grammar, spelling, punctuation, organization, style, clarity, and flow.
With all these compelling reasons to choose The Paper Experts, we're sure you'll agree with our thousands of satisfied customers and return to us time and again for all your essay writing and editing needs.
The Paper Experts has a separate division that specifically caters to thesis and dissertation writing. Our expertise in this area allows us to write in absolutely any area at the graduate and post graduate area. Talk to one of our Thesis & Dissertation Advisors and ask them about our thesis and dissertation writing services. No matter what stage of the process you're in we can help. We've helped thousands of graduate and post graduate students with their KAMS, proposals, individual chapters, full document, editing or even translating your document into other languages. At The Paper Experts you have a one stop shop for all your thesis or dissertation needs.
Call 1-877-974-8333 and Speak To A Thesis & Dissertation Advisor!